Fountain of Health Yoga Studio's 2023 200-Hour, Yoga Alliance, and Yoga Teacher
Training with Marcee Gutman-Ballantyne will begin January 2023.
Contact Marcee for info for Teacher Training 2023.
This teacher training certification program is for people who want to be able to teach with knowledge and confidence. It is also for people who may not desire to teach but want a quality, in-depth education about all eight limbs of yoga from ancient India.
This 200 hour teacher training will begin in January of 2024 and lasts for 7 months. 
You can also do this training as an immersion for a reduced rate, but you will NOT be certified. 
You can also do individual weekends as an immersion or for teachers who need continuing education credit. 
Please send Marcee an email at  yogagy[email protected] or call at 719-568-0416 if you are interested.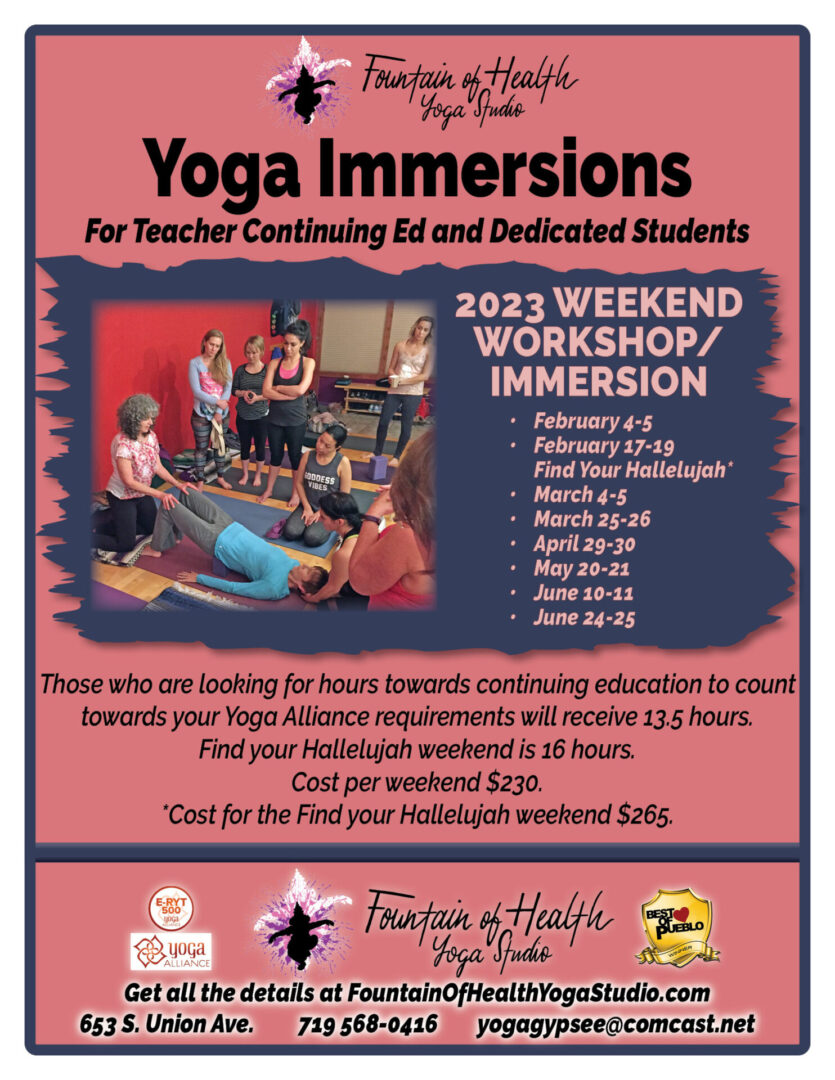 Frequently Asked Questions
You becoming a great yoga teacher is independent of your ability to do the strongest and hardest yoga poses. 
You don't want to be a yoga teacher but want a deep dive into your yoga practice?  
You may be at a certain point in your yoga practice and feeling a desire to go deeper.  I've had many students who don't want to teach but they want more of yoga's subtle science, which has brought more harmony to their body, mind and spirit.
You can do this training as an immersion at a reduced rate!
Simple – you need to fill out an application and pay the non-refundable application fee of $25.  Click the "apply now" button.  Notify Marcee that you did apply and she will send the application.  
If accepted, this $25 application fee will be applied to your balance.
Next, you will receive an email from our teacher training instructor, Marcee Ballantyne, and she will answer any further questions you might have and welcome you into the program. A $300 deposit will be due at that time to hold your spot.
You will have the option of the monthly payment plan or to receive a discount with full payment.
This teacher training is endorsed by Yoga Alliance and requires that you complete all 200 hours of the teacher training. However, we understand that sometimes conflicts come up, and we have developed the make-up policy listed below. Please note that you can miss up to 40 teacher training hours, but you will have 2 months from the last day of your program to complete your attendance requirements.
If you miss more than 40 hours and do not complete your make up hours within 2 months before the end of the training, you will receive a "not passing" status. A "not passing" status means you will not receive your certification and won't be eligible to be registered by Yoga Alliance.
* You can schedule a private session during the program. The cost of an hour and a half private session is $110. A 1.5-hour private equals 5-6 hours of missed class time.
*Other assignments and makeup classes may apply. Completion of the Fountain of Health Yoga Studio Teacher Training program assures that you will have received personal, quality, and comprehensive attention and information. You will have had access to ageless wisdom and a library of teaching tips and information for opening your own yoga studio.
You will receive your diploma validating your training at the 200-hour level and certification with Fountain of Health Yoga Studio. You will then be qualified to register with Yoga Alliance.
Yoga Alliance is a highly recognized organization that was started in 1999 as a way to create nationally recognized standards for yoga teachers and yoga teacher training in the US. Most yoga studios across the country require their teachers to be registered with Yoga Alliance. But know that Yoga Alliance registration is not a legal requirement for teaching yoga. Currently, there are no legal certification requirements to be a yoga teacher.
Highlights from 2017 Teacher Training